Upon graduation, many of us put our instruments in cases and either eventually sell them or leave them in a closet forever. Some of us just take a "time-out" and pick them back up after 20-30 years. A special few spend their entire careers and lives engrossed in music. Two of our band members are perfect examples of the latter. Charlie Huffman and Jon Barbarotto are octogenarians who still have a love for symphonic band music. Both of them are still very active in the music world.
---

Charlie Huffman is a founding member of the JACB. Charlie, along with playing tuba in the Symphonic Winds, is the principal tuba for the Jackson Symphony, and is a member of the Jackson Symphony Brass Quartet.
Charlie majored in music, theory, and composition and received a BA from Maryville (TN) College and an MA from the University of Texas. He joined the Navy in 1950 and played in and arranged for Unit Bands on the USS Missouri and New Jersey battleships. He also was an instructor for the U.S. Navy School of Music.
After spending 11 years as a high school band director in Florida and Tennessee, Charlie accepted the position of Professor of Music at Union University (Jackson, TN) in 1967. He conducted the Symphonic band and the Stage Band, along with his teaching responsibilities. Charlie was the orchestra leader and arranger for the Miss Tennessee Pageant, Inc. until 1984. In 1992, he retired from Union University.
He continues to arrange charts for guest Symphony performers like the late Carl Perkins, the Oak Ridge Boys, Charlie Daniels, and Johnny Rivers.
---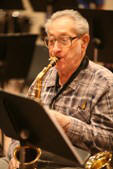 Jon Barborotto is originally from Pine Bluff, AR. After Graduation from high school, he played with several big bands, including Glen Gray. He received his Bachelor's degree from the University of Arkansas at Monticello and directed bands in Augusta, Hope, Brinkley, and Newport AR for 37 years.
Jon is a board member of the Dixie Band Camp (since 1958) and is a member of Phi Beta Mu, the national band director fraternity and the American Band Director Association. His honors include the Raymond and Ruth Brandon Award for outstanding contribution to Arkansas school bands, the Band Master of the Year Award in 1984, and was inducted into the Arkansas Band Master Hall of Fame in 2003. At the same time, Jon has been an avid supporter of the Boy Scouts, and has worked with that organization as a leader and trainer for over 50 years. He has received the coveted Silver Beaver Award, a highly sought-after recognition for adults. Jon Married Mickey Barbarotto. They have a daughter, a deceased son, five grandchildren and 7 great-grandchildren.
Jon and Mickey moved to Jackson in 2005. He plays alto saxophone in the Symphonic Winds.